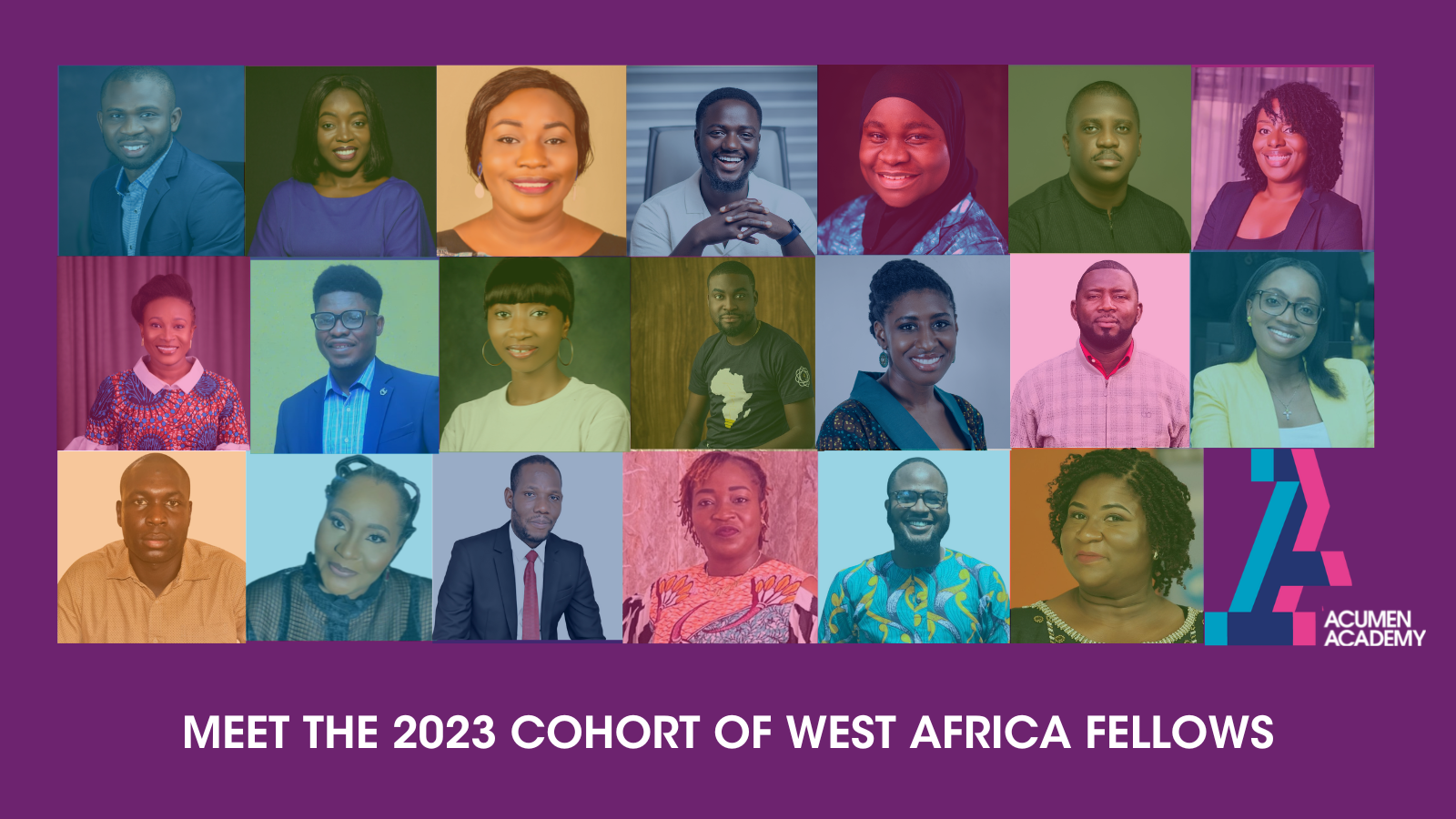 Acumen Academy has selected 20 recipients for its West Africa Fellows Program for 2023.
The 2023 fellows, who have worked in 12 different sectors and impacted over 900,000 lives in the previous year, are showcasing new possibilities in West Africa. Some of the fellows are building up the workforce in Ghana, Liberia, and Nigeria. Others are addressing learning differences, tackling climate issues, and working on other projects that fit with Acumen Academy's mission.
Emeka Nwachinemere, who is a 2023 West Africa Fellow, started Kitovu in 2017 with the goal of improving the lives of African farmers by building and deploying climate-smart and post-harvest infrastructure. This has helped more than 12,000 farmers maximize their yield. Between 2018 and 2021, Anita Nchat Kevin and her team at Amina Dyslexia Center taught school teachers, administrators, and parents on teaching approaches to accommodate children with learning disabilities. This has helped 11,000 schoolchildren in Northern Nigeria to learn better.
2023 Fellows like Emeka and Anita will get the training and space they need to develop their moral imagination, listen more deeply, partner better, think about their sense of identity, and open their minds to understanding the layered inconsistencies and different perspectives of others.
At the end of the program, they will join the academy's worldwide network of social innovators, all of whom have touched more than 8 million people, to embark on a lifetime adventure to eradicate poverty and create a dignified society.
Meet the 2023 fellows and discover how they are changing the narrative in West Africa, below:
Ahmed Ayoade Oyedotun – Co-Founder and CEO of Afrimash Company Limited
Ahmed is the Co-Founder and CEO of Afrimash, a leading agritech platform in Nigeria that utilizes e-commerce technology to streamline the farm input supply chain and makes agriculture more accessible. Before Afrimash, Ahmed founded Woculus, a platform designed to assist professionals and entrepreneurs in the digital world. As a social and digital entrepreneur, Ahmed is passionate about using technology and agriculture to create a positive impact in Africa. He aims to empower smallholder farmers and improve their livelihoods through the use of technology.
Amy Gaman – Managing Director at Nuru Nigeria Development Initiative
Amy is the Managing Director at Nuru Nigeria Development Initiative. She has over a decade of experience in leading impact-driven teams and programs. Her passion lies in sustainability and working directly with communities to develop solutions that combat poverty and support vulnerable people. In addition to her role at Nuru Nigeria, Amy also serves as a ONE Champion and community volunteer. She has received numerous awards for her work, including being named Humanitarian Ambassador of the Year and being recognized by the British Council through the Northeast Hub. She has also been named a Perennial Fellow.
Anita Nchat Kevin – Founder and CEO of Amina Dyslexia Center
Anita is the Founder of Amina Dyslexia Center, a social enterprise that aims to address illiteracy caused by dyslexia, a learning difference that puts 1 in 5 children at risk of dropping out of primary or secondary school. Prior to starting Amina Dyslexia Center, Anita was a teacher specializing in early years and key stage 1. She has also received training as a Dyslexia Practitioner from the Orton-Gillingham Academy.
Anthonia Ayamga – Senior Development Planning Officer at Bono, Regional Coordinating Council
Anthonia Ayamga is a Senior Development Planning Officer at Bono, Regional Coordinating Council. She has 11 years of work experience in the area of development planning. She is passionate about issues of climate change, gender issues, and activities that aim at achieving the SDGs. She has on various platforms contributed her quota to the development of her country both within and outside the country.
Dieudonne Perry – Executive Director at SMART Liberia
Dieudonne is the Executive Director at SMART Liberia, an institution that connects young Liberians and youth organizations to relevant skills, resources, and information to enable them to drive social change in Liberia and beyond. He focuses on Education Advancement, business development, and entrepreneurship to bring together young leaders in a communal space, equipping them with the resources and network necessary to drive change in their communities and beyond. Dieudonne holds a bachelor's degree in Biology and Chemistry.
Eleanor Thompson – Deputy Director for Programs at Namati Sierra Leone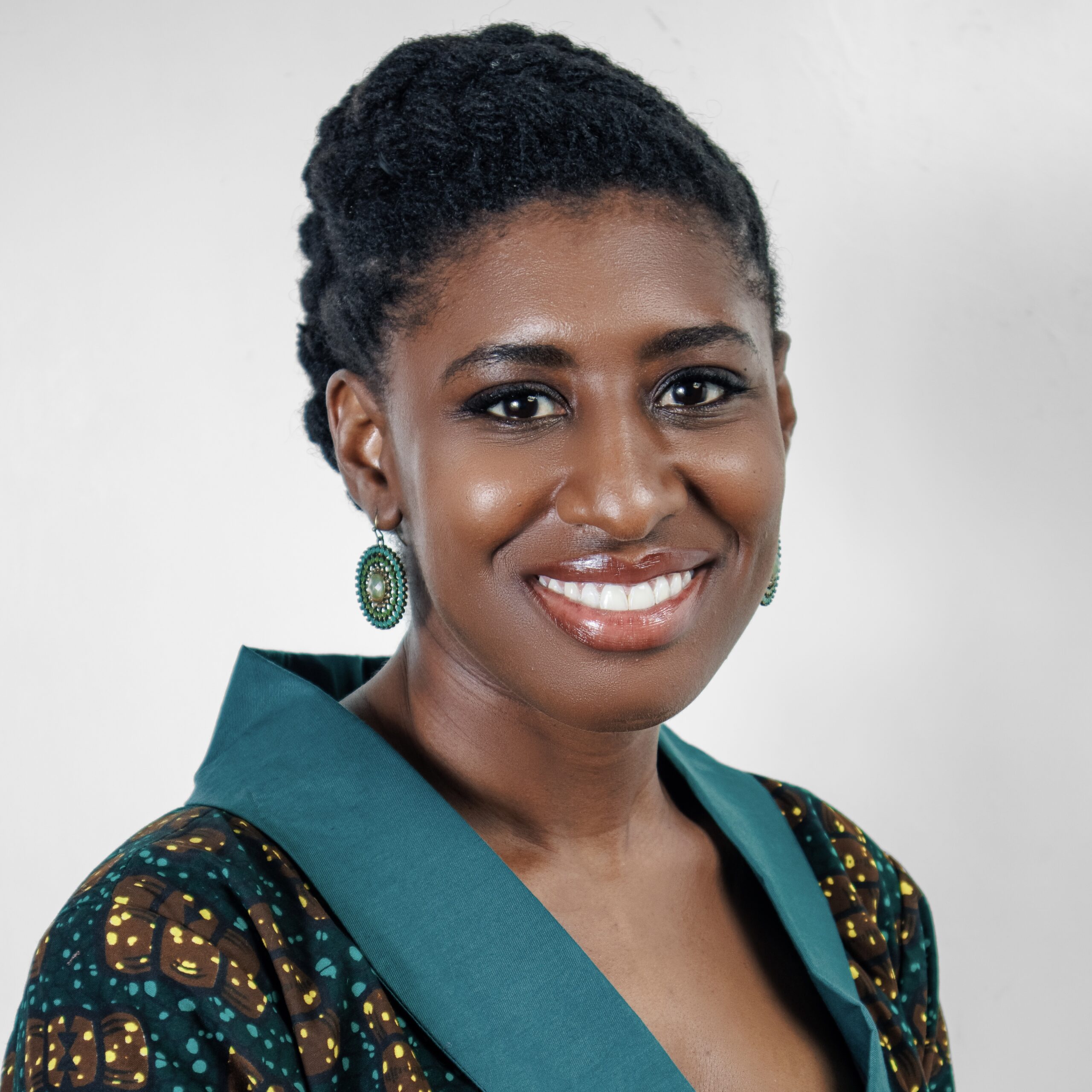 Eleanor is the Deputy Director for Programmes at Namati Sierra Leone, an organization that helps communities understand, utilize, and shape laws to protect their land rights and environment. As a public interest lawyer and social justice innovator, she is passionate about using her legal expertise to empower marginalized communities. Eleanor holds a Bachelor's degree in Government and African Studies from Harvard University, a Juris Doctor from American University Washington College of Law, and a Master's in International Human Rights Law with distinction from the University of Oxford.
Emeka Nwachinemere – Founder and CEO of Kitovu Technology Company
Emeka is the Founder and CEO of Kitovu Technology Company, an agritech company that provides smallholder farmers with the data to make smart decisions about what to grow, how to grow it, and who to sell it to, enabling them to make more money off their farms. Emeka is a graduate of the University of Nigeria, Nsukka, where he studied Mechanical Engineering. He has also received specialized training in Business and Entrepreneurship from Enterprise Development Centre, Pan-Atlantic University, Lagos.
Jefyne Togba – Founder and CEO of The Vantage Group
Jefyne is the Co-Founder of The Vantage Group, a boutique consulting firm based in Monrovia, Liberia, that helps small and medium-sized enterprises (SMEs) build capacity and become more competitive in the market. She leads the business development division and designs and manages programs for SMEs at various stages of their entrepreneurial journeys. Before her role at The Vantage Group, Jefyne was an Executive Council Member at the Liberia Chamber of Commerce, advocating for SMEs and women-owned businesses. She is also the Co-Founder of the MRU Business Women's Network. She holds an MBA from Texas Southern University and is a certified PMP.
Jeph Acheampong – Co-Founder and CEO of Blossom Academy
Jeph is the Co-Founder and CEO of Blossom Academy, an organization on a mission to close the tech skills gap in Africa through analytics boot camps and dedicated careers support. Prior to his current role, Jeph was a founding member of Esusu Financial, a leading financial technology company leveraging data solutions to empower tenants and improve property performance. He holds a bachelor's degree in Economics from New York University and in 2019, he was recognized as a Global Innovator by Expo 2020.
Josephine Saidu – Founder and CEO of Teach For Sierra Leone
Josephine is the Founder and CEO of Teach For Sierra Leone, a woman-led results-oriented leadership organization that develops transformational world-class female leaders to end systemic injustices in the education sector in Sierra Leone's most deprived and marginalized communities. Prior to founding TFSL, she worked as a Broadcast Journalist and Communications Specialist in both the UK and Sierra Leone, covering stories that empower and elevate women's voices. Josephine holds an MBA in International Business from Cardiff Metropolitan University, UK.
Oluwafunke Adeoye – Founder and Executive Director of Hope Behind Bars Africa
Oluwafunke is the Founder of Hope Behind Bars Africa, an organization that provides access to justice to indigent pre-trial detainees and creates economic opportunities for incarcerated persons while working to reform Nigeria's criminal justice system. Over 7,000 incarcerated persons have benefited directly from their interventions. With 10 years of experience as a lawyer, Oluwafunke holds an Executive Certificate in Non-profit Leadership and Management from Lagos Business School and is a Fellow of Cornell University's Makwanyane Fellowship for Capital Defenders.
Omar Danso – National Coordinator at Activista The Gambia
Omar is the National Coordinator at Activista The Gambia, a youth-led civil society network that works to promote social justice through the empowerment of marginalized groups such as youth, women, and persons with disabilities. Activista The Gambia works on governance, human rights, migration, human trafficking, and climate justice. Before his current role, Omar served as Campaign and Advocacy Coordinator, Project Coordinator, and Programs Manager for Activista The Gambia for over 8 years. He holds a bachelor's degree in Development Studies with a minor in Finance.
Rahmah Aderinoye – Co-Founder and CEO of Rashak Farms and Agro Allied Limited
Rahmah is the Founder and CEO of Rashak Farms & Agro Allied Limited, where she leads a team of young and vibrant individuals in creatively addressing Nigeria's food insecurity challenges. She is a social impact entrepreneur with a keen interest in agriculture and the crop production and food processing value chain. Prior to founding Rashak Farms, Rahmah is passionate about providing economic opportunities to women, youth, and persons living with disabilities (PWLD) by empowering and financially including them throughout her professional career in the non-profit sector and entrepreneurship.
Richard Sam – Regional Program Officer at the Sustainable Development Institute
Richard is the Regional Program Officer at Sustainable Development Institute. He is an experienced environmentalist and natural resource governance and management practitioner with more than 9 years of experience in managing natural resources, conducting environmental social impact assessments, community engagement, climate justice, environmental justice, and natural resource policy on land and forests. He is knowledgeable in assessing the social and environmental impact and risks of large-scale agricultural projects and developing mitigation measures to reduce the risks through stakeholder engagement through free, prior, and informed consent.
Solomon Ifeanyi Nathaniel – Head of Organisation of Unique Foundation The Gambia
Solomon is the Founder and Director of Unique Foundation The Gambia, an organization that works with vulnerable people and communities in The Gambia. Solomon is aware that people with little or no education are held back at every stage of life. His goal is to see The Gambia and beyond, where every child and unschooled young adult can read and write. Solomon is also the CEO of 'Intown Fresh Farm' a one-stop for all fresh farm produce. He is a member of the Africa Youth Commission, Young African Leaders Initiative, Theirworld Global Ambassador for education, World Literacy Foundation Ambassador, and the Acumen Academy West Africa Fellowship.
Theo Boateng – Director of Operations, Expansion and Partnerships at Saha Global
Theo is the Director of Operations, Expansion, and Partnerships at Saha Global, an organization that brings the cleanest water to the hardest-to-reach people. Theo leads the development and implementation of operational structures and systems that support growth. He also leads program expansion and external relations with government agencies and civil society organisations in the WASH sector. Theo has nearly a decade of experience in supporting start-ups and early-stage for-profit and non-profit organisations to build the necessary operational systems that accelerate their growth.
Ujuaku Akukwe – Founder and Creative Director of Eastern Nigeria Film and Arts Initiative
Ujuaku is the Founder and Creative Director of the Eastern Nigeria Film & Arts Initiative, an organization that invests in film and media training, as well as entertainment in Nigeria with a specific focus on Southeast Nigeria, grooming young talents to create more authentic African stories. She is an experienced Indigenous Storyteller and Curator who uses film as a tool to educate people. Prior to this organization, Ujuaku has held various leadership roles within the field of filmmaking. Her work has earned her multiple international awards in documentary filmmaking and she is a recipient of the California State Legislature Assembly for her use of film in community engagement. Ujuaku is an alumna of the New York Film Academy.
Wande Adams – Co-Founder and CEO of The Bulb Africa
Wande is the Co-Founder and CEO of The Bulb Africa, a tech talent incubator that is strategically designed to close the skill gap in Africa's job market. The organization creates employment opportunities, helps start-ups scale, and fosters the development of young Africans into tech experts. Prior to starting The Bulb, Wande held leadership roles at Verizon and Vencore as a US government contractor. Wande is a graduate of the University of Baltimore and holds a Master's degree in forensic accounting from the University of Maryland UC.
Yatta Sackie Wapoe – County Health Officer at Montserrado County Health Team
Yatta is the County Health Officer of the Montserrado County Health Team, a government organization that manages the healthcare delivery services for the most populous county in Liberia. In this role, Yatta advocates for and serves the most marginalized population, ensuring access to quality healthcare services and responding to diseases of epidemic potential. Before her current role, Yatta held various leadership roles within the field of healthcare. She holds an MD in general medicine from the University of Liberia and an MPH in Health Policy from Cuttington University.
Yawa Hansen-Quao – Founder of Leading Ladies' Network
Yawa is the Founder of the Leading Ladies' Network, a nonprofit organization that nurtures female leadership and social entrepreneurship in Africa for over a decade. Prior to founding this organization, Yawa has held various leadership roles within the field of empowering women. Through the Leading Ladies Network, Yawa has fostered an ecosystem of 12,000 African women and girls who have ambitious goals, strong character, and resolve to serve as impactful leaders in business, civil society, and government.