It was a carnival-like atmosphere as the Presidential candidate of the All Progressives Congress (APC), Asiwaju Bola Tinubu held the grand finale of his campaign in Lagos on Tuesday.
Watch video below:
From the local wing of the Murtala Muhammed International Airport, massive crowd followed Tinubu in a procession to the Teslim Balogun Stadium, venue of the rally.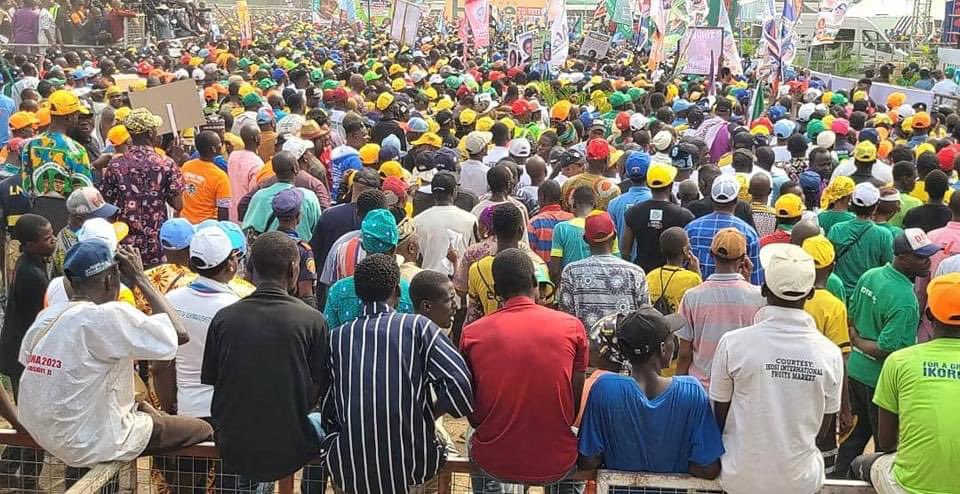 The APC's presidential candidate moved in a Motorcade through the Agege Motor Road to Oshodi, Mushin, Ojuelegba to the stadium.
Watch video of Tinubu in below:
In Oshodi, a huge crowd was seen waving and chanting his name. Thousands lined the streets to welcome him, he waved at them and threw souvenir for them to grab. It was an ecstatic moment as Tinubu was welcomed back to Lagos in a triumphant manner. He is in deed the real 'City Boy' and not Peter Obi as claimed by his 'Obidient' supporters.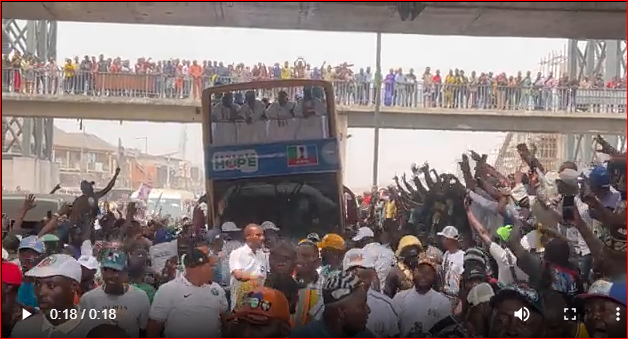 In Mushin, the crowd was even more massive, market men and women, youths, school children and others waved at him, chanted his name and wished him well in his presidential endeavour.
Teslim Balogun Stadium, venue of the grand mega rally was filled to capacity. The stadium has a capacity of over 24,000 seats and they were all filled. The crowd also filled the entire field.
Watch video of crowd at Teslim Balogun Stadium:
As the former governor of Lagos made his way into the stadium, it became more electrified, there were shout of 'Asiwaju,' 'On your mandate we shall stand," and 'Jagaban.' He was ushered in like a king.
President Muhammadu Buhari was also ushered into the stadium in cheerful manner, He was not booed despite the hardship currently being faced by Nigerians.