Nine suspects were arrested by operatives of Independent Corrupt Practices and Other Related Offences Commission (ICPC) over alleged vote buying in Osun, Ondo, Borno, Akwa Ibom and Sokoto States during the Presidential and National Assembly Elections on Saturday.
Mrs. Azuka Ogugua,  the spokesperson, ICPC said in a statement that four of the vote buyers were arrested in Osun State by operatives of the anti-graft agency.
She added that two persons were arrested in Sokoto State, while one person each was arrested in Ondo, Akwa Ibom and Borno respectively.
"The four vote buyers arrested in Osun State are Adewale Teslim, 32 years; Yemi Adebiyi, 42 years; Shake Idris, 36 years, and Emiola Joseph Oluwole, 69 years.
"The suspects, who are in Osun State Office custody, were found with documents containing lists of names, phone numbers and account details of voters during the election in the State.
"Operatives of the Commission retrieved a list of names and phone numbers of voters from Adewale Teslim at Polling Unit 07, Ward 07, Ile Aganna in Olorunda Local Government Area of Osun State.
"The officers also recovered a list of people who had voted with their phone numbers and account details from Yemi Adebiyi at Polling Unit 06, Ward 04 at Ikirun Junction, Ikirun while Shake Idris was arrested at Polling Unit 6, Ward 10, Ofatedo area of Osun State with a notebook containing over 100 names and account numbers.
"The anti-corruption agency also recovered a notebook containing a list of voters' names and account details from Mrs. Afolabi Adijat at Ward 5, Polling Unit 04 of Ansar-ud-deen Mosque area of Olorunda Local Government. The agency's officers, however, couldn't arrest Mrs. Afolabi Adijat due to the volatility of the area and insufficient armed personnel.
"The Ondo State Office of the ICPC arrested one Mrs. Idowu-Yemi Omolere at Polling Unit 12, Ward 12 behind Dada Estate Police State in connection with the distribution of recharge cards to voters.
"The ICPC personnel recovered 24 pieces of N500 recharge cards, a list of voters and their phone numbers as well as a techno phone.
The ICPC spokesperson said one Garba Bahausa was arrested at the Bulunkutu Ward in possession of four PVCs and the sum of N49,000.
The suspect distributed the money, food items and 20 wrappers.
The ICPC spokesperson claimed that in the course of his interrogation, Bahausa confessed that the money was given to him by a lawmaker to distribute to voters.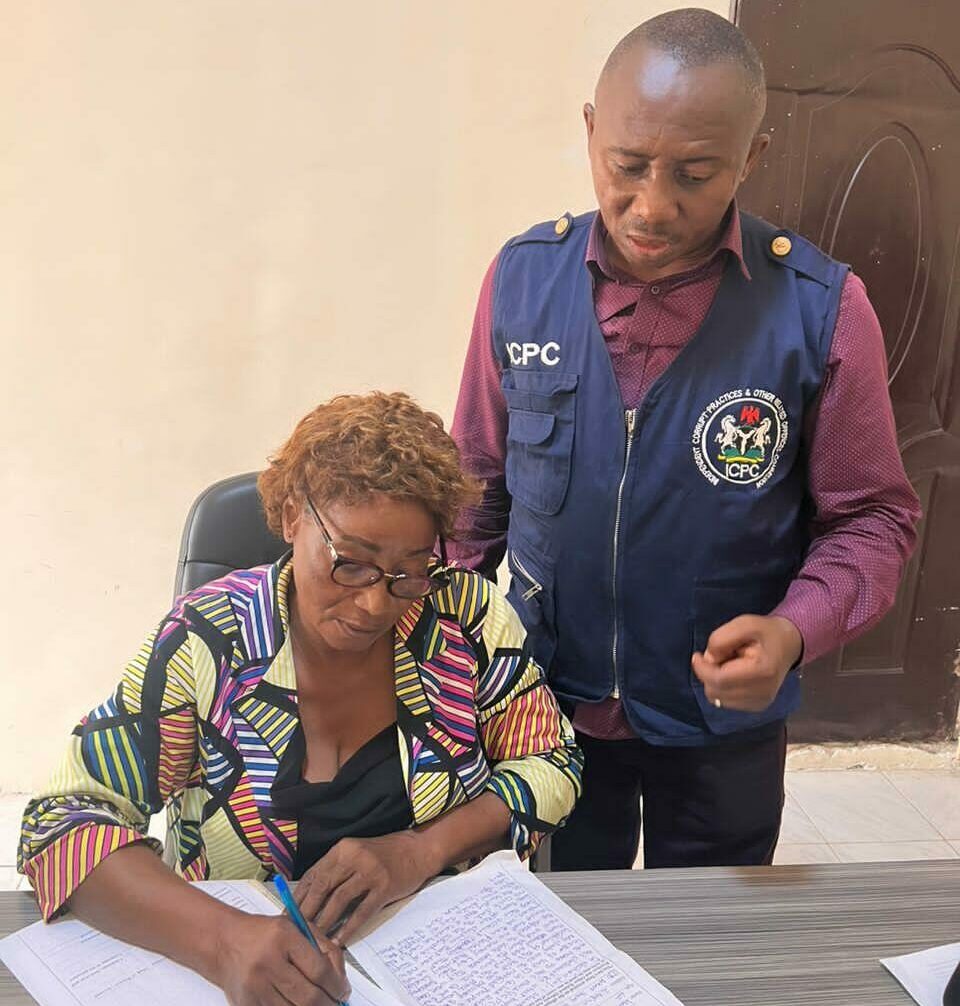 Mrs. Idara Umoren was arrested in Akwa Ibom for collating the names and account details of voters suspected to have voted for her preferred candidate.
She was arrested at the Signature Hotel Polling Unit on Plot 48G Line, Ewet Housing Estate, Akwa Ibom, according to the statement by the ICPC spokesperson.
In Sokoto State, ICPC operatives arrested two persons – Hassan Muhammad and Nafisa Sani – for vote buying at the Rabah Local Government Area of Sokoto.
Hassan Muhammad was caught in possession of signed tickets which were given to voters that voted for his party.
The ticket enabled the voters to be given women wrappers and bags of rice.
Nafisa Sani was intercepted while giving wrappers to voters at a polling unit in Rabah Local Government Area of Sokoto.
The Chairman of the ICPC Prof. Bolaji Owasanoye has commended the officers of the ICPC State Offices and the Headquarters for diligently monitoring the Presidential and National Assembly elections across the Federation, thereby curtailing vote buying by some representatives of political parties.
He directed the State Offices to carry out a detailed investigation of all those arrested for acts of corruption during the election on Saturday.
The Commission, it will be recalled, had on Friday taken into custody one Hassan Ahmad who was in possession of the sum of N2m cash in both old and new currencies in Bauchi State.
Ahmad was arrested by the Troops of 33 Artillery Brigade Operation Safe Conduct deployed to Alkaleri in Bauchi State and handed over to the Bauchi State Office of the anti-corruption agency.